Endangered Newfoundland Pony Foal Born Near Bayfield
Bayfield Breeze Vol13 Week 26 Issue 676 – June 22, 2022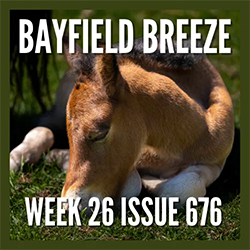 View Article on Bayfield Breeze Website
In the early hours of June 16, a very important little filly, Poppy's Haven's Pippi Longstocking, was born just outside Bayfield. Pippi is a Newfoundland Pony, a critically endangered species, and one of Canada's Heritage Breeds.
According to the Newfoundland Pony Society, in the 1970s there were over 12,000 Newfoundland Ponies that roamed the Island. These ponies were vital to the well-being and economy of Newfoundland, providing transportation and hauling fishing nets, wood, and hay. Over time, due to increased modernization such as farm machinery, and municipal by-laws preventing open pasturing, the ponies' role diminished. Many of the ponies were sold to meat processing plants. By the early 1980s there were less than 100 known Newfoundland Ponies left in the world.
It is only through the dedication of a small number of breeders and pony protection groups that the Newfoundland Pony has not become extinct. Poppy's Haven, located in Varna, ON is a family-run farm dedicated to the preservation and protection of the Newfoundland Pony. Poppy's Haven acts as a steward dedicated to long-term mental, emotional and physical well-being of the Newfoundland Ponies that are entrusted to their care. They run a small breeding haven, with six Newfoundland Ponies, four mares and two fillies. The ponies are incredibly friendly with gentle dispositions and learn quickly. They come running to greet visitors to the farm; individuals who have said they are anxious of horses leave with a newfound level of comfort and confidence.
Poppy's Haven is also home to Haven's Equine Partnerships in Wellness & Learning (HEPWL). Certified facilitators provide equine facilitated wellness and learning programs with an opportunity to connect to nature, become grounded and present focused, in service to their community. Equine facilitated wellness and learning is a learner-based educational experience with equines. The programs at Poppy's Haven encompass a range of activities with the Newfoundland Ponies to encourage individual and team growth, such as leadership, communication, and team building. The farm works in partnerships with mental health therapists and other counsellors (grief, yoga, mindfulness) to further promote and provide mental health programs.
Poppy's Haven is currently restoring the farm's bank barn, which dates to the 1860s. Once restoration is further underway, they will hold monthly open houses to continue to educate, promote and increase awareness about the importance of Newfoundland Ponies to Canada's heritage.
The Newfoundland Pony is now recognized as a Heritage Animal. It is estimated there are currently about 500 Newfoundland Ponies, however only approximately 250 of these are suitable for breeding. As such they continue to be identified as a critically endangered species by Heritage Livestock Canada and the Equus Survival Trust.
To learn more about Pippi, the other Newfoundland Ponies, and Equine Facilitated Wellness & Learning, you can follow Poppy's Haven on Facebook and/or Instagram (poppyshaven). Their webpage: www.poppyshaven.com is currently under construction and will be live in a few short weeks. To learn more about the Newfoundland Pony Society click here: History.
PHOTOS BY ROBERT ALEXANDER